Estimated Time to Read: 4 minutes
Are you thinking of designing custom bathroom vanities? Search for the best custom bathroom vanities online and get the perfect one for your space. You may have a drywall niche in your bathroom and want that space to be more practical for your family needs. Create a space in your bathroom where you could keep your bathroom essentials. Make the space easy to reach and accessible on the lower end of your custom cabinet. You may create a large space which you can later enhance for resale.  You can finish the custom built-in cabinet of your bathroom with a stunning capital top in paint grade, craftsman style. A striking vanity design often needs meticulous planning and careful attention to detail. You can make a lot of decision from the layout, style as well as the type of countertops and sinks. Let's check out the tips for designing the perfect custom bathroom vanities in your new space which will pack a storage punch: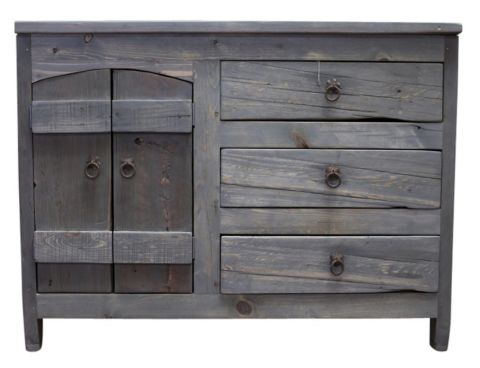 Decide on the Layout – You have to first decide on the layoutbefore taking the decision on colors, fixtures and finishes. Settle on how big will be your vanity? You may have two vanity spaces divided by a pass-through. Each space can include sink or else, you can use one space for washing up and the other one for seating. You may also include several horizontal vanities with a section of cabinetry. This can offer you an efficient solution, where you can take full advantage of the available storage and counter space. Moreover, this will ensure clean lines and a rationalized bathroom design. If you want, you can also design L-shaped vanity, mostly in master bathrooms. Even if this vanity doesn't always maximize your space, it provides sufficient leg and arm room and distinct vanity spaces in big bathrooms.
Settle on the Sinks – You may also have to settle on the number of sinks you want to have. Find out a vanity style which is capable of accommodating the number of sinks you want to have. Most of the homeowners prefer to have double sinks.Unfortunately, there could be space restriction. Usually, vanities that are smaller than 60 inches have just one sink, which can be kept at the center, right or to the left side. You may also have drawers in your sink cabinet or typical cabinet doors. On the other hand, vanities over 60 inches wide can accommodate two sinks comfortably. Nevertheless, if one sink is adequate, you can make use of the extra space for added counter space.
Select the Style – Just the once your layout and the sinks are decided, you have to select the style. Ask yourself whether you want traditional cabinet, antique piece of furniture and a pedestal sink? In case, you want to opt for conventional vanity cabinet, you may have to consider several factors. Whether you want to have a stain or paint? What is your preferred color? What kind of door style you want? Whether keeping doors, drawers and pull-outs will be fine? Custom vanity cabinets are not having any built-in features. You may choose free standing vanities attached to your walls and may keep open shelve in place of closed cabinets. Besides, you may have furniture style details. Floating vanity is another design which is often mounted to the wall and the open space beneath. The tile of this contemporary bathroom vanity has open shelves. However, you may find pieces having closed cabinetry. In case you do not need storage space and are looking for minimalist design, you can simply give up cabinetry and set up a wall-mounted countertop.
Get the Countertop – If you're purchasing a pedestal sink or restoring old furniture, you may have to skip this step. Other designs, including cabinets and repurposed furniture without a top, will involve some kind of countertops. Several materials are available such as quartz, granite, laminate, marble, wood, concrete as well as solid surface. Quartz and granite are trendy for bathroom countertops. They are long-lasting and available with high-quality materials along with designer patterns. However, granite needs to be sealed after every two years as it is a porous stone. Soft stones like marbles scratch easily than granite and quartz, having less tolerance for moisture. Wood and laminate don't mix well with moisture, but they are more budget friendly compared to stone.
So, why are you waiting for? Follow these simple tips and design your custom bathroom vanities in the perfect way. You should also decide on the type of sinks like under-mount, drop-in and wall-mount and wrap up design with fixtures to spruce up your bathroom in an exclusive way.