Estimated Time to Read: 3 minutes
There is an intriguing fact stating that we spend nearly one-third of our life in our bed. Apart from choosing the stylish designer beds and comfortable mattresses, bed sheets or linen used on a daily basis on your bed matter a lot in defining your mood. Your sleep sanctuary becomes a perfect haven when you choose a smooth texture in the bed sheets. Also, a suitable combination of bed linen can enhance the glamour of your bedroom. They are an indispensable accessory for your bedroom holding significant prominence in your home decoration as well.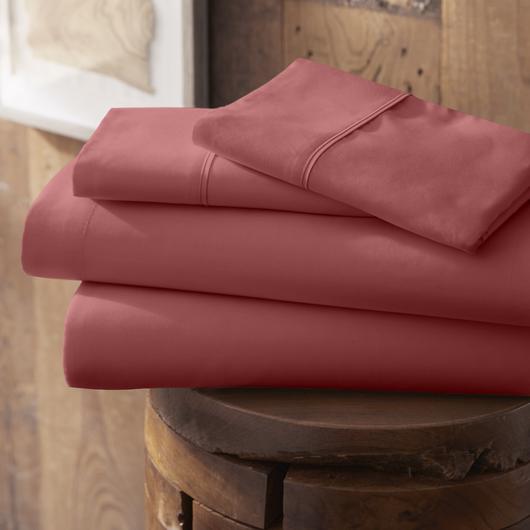 Here, you have to agree that bed sheets have a significant impact on your lifestyle at different levels. Most of the times, you end up buying an inappropriate linen due to sheer lack of awareness and knowledge. Your investment goes in vain when bed sheets are not comfortable or they fail to enhance the ambiance of your room. If you are looking to buy a new bed sheet, it is recommended to read this article and make purchases as per the tips provided here.
Look For The Perfect Size:
You must measure the length and breadth of your mattresses before stepping out for shopping. The beds are available in different sizes and so are the mattresses. Twin, double, king size and queen size are the types of beds commonly preferred in modern homes. New improvements in mattresses and beds have made it difficult to cover your bed with the perfect linen. A standard bed sheet may not fit a king size bed due to extra thickness, tucked pillow area, and other enhancements. A bed sheet is not suitable until its size fits your bed. Hence, measure its size including the thickness. Add a few inches more after calculating the surface area and thickness of a mattress. Always remember that size of a bedsheet should neither be less nor more. It should be a perfect match.
While purchasing bed sheets on sale, you must pay attention towards the size mentioned on the cover. You must shortlist a bedsheet on its size before looking for its prints and other features. For example, you can go for a king size bedsheet for your queen size bed if it offers ample coverage for extra thickness and mattresses.
Check the Thread Count:
You will certainly feel more comfortable when relaxing on very soft and smooth linen. It is a heavenly experience to enjoy a deep slumber on such linen. But how it becomes so comfortable?
The real magic is the higher thread count. It is seen that softness of a bedsheet is determined by its thread count. The hospitality industry emphasizes on thread count while buying bed linen for supreme luxury and comfort. Thread count, usually named as TPI is calculated as threads used in each square inch of the bedsheet. It is observed that bed sheets with 350-450 TPI are more comfortable in comparison with bed sheets with 150-250 TPI. Higher TPI sheets are more comfortable and relaxing for a nightlong sleep.
The Fabric of Bedsheet:
Cotton is considered the most suitable fabric for a restful experience over synthetic fiber bedsheets. This is a flawless fabric that can absorb moisture and regulate your body temperature for a serene sleep. You can prefer cotton in superior varieties if you are looking for comfortable and smooth bed sheets. Seasonal changes also affect the selection of a bedsheet. Different types of cotton materials are available in the market and you can purchase bed sheets (www.ehow.com/how_2216603_buy-bed-sheets.html) according to your suitability. However, Egyptian cotton is considered highly valuable in this regard.
The maintenance required by a bedsheet is also a matter of concern. Sometimes, premium sheets lose their shine after 2-3 wash. Hence, choose a fabric that won't wither away even in a machine wash. Wrinkle-resistant and fade-resistive bed sheets are preferable by the people who admire affordability. Such sheets are more durable and provide a greater value for money.
Sheet Color Combination:
A bedsheet covering your bed should form a perfect symmetry with your room's interior. The incompatible sheets will never go well with the surrounding décor. Hence, you must check the prints and the color combination of sheets before splurging on them. Simply, envision the combination of your bed, interior, furniture, and bedsheet. Also, check whether you are allergic to the dyes used in a bedsheet. Apart from fabric, you also should check your compatibility with printed dye if you are allergic to them.
These are some of the best tips that you should follow when looking for the perfect linen for your bedroom.