Estimated Time to Read: 3 minutes
A kitchen is a place for you to display your culinary prowess. It's also an integral part of the home, and which needs to be designed and decorated in accordance with the interior scheme as the rest of the house. The work top in your kitchen is one such space, which, when designed, built, and decorated beautifully can lend an enchanting allure to the entire area. So here are some tips that can help you build and maintain an outstanding kitchen with the help of kitchen counter tops.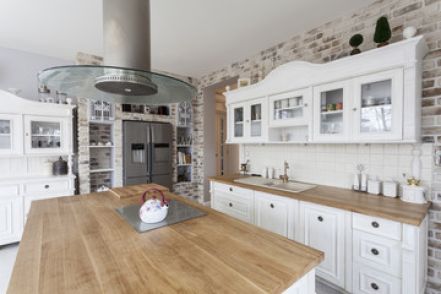 Know what materials and finishes to choose
Countertops can be constructed with different materials. Granite is a commonly used material, as it is hard, durable, highly resistant to heat, and requires very little maintenance. Granite counter tops come in three basic finishes – polished, honed, and flamed. The polished finish gives a mirror like reflective sheen to the countertop surface, making it elegant and radiant. However, this finish can corrode over time, and can also show scratches or flaws when not properly cared for. Honed granite has a satiny matte finish that blends beautifully with white cabinets and furniture. This finish is less likely to reveal scratches and flaws, but is more porous, and can hence absorb stains easily. Flamed granite has a natural, rustic charm and a rich texture. However, this is highly porous, and can trap dirt and stains in its crevices. Hence, this kind of finish requires constant upkeep and routine care.
Wood is yet another popular choice for countertops. Pinewood works best for traditional or antique kitchens. Reclaimed wood is ideal for homes with a rustic interior. Oak lumber works best when you need to have a countertop in an exposed or outdoor space.
Of late, brass countertops have started gaining popularity in kitchens. Their ever-changing patina lends a unique beauty to your kitchen, while the different textures and finishes make them suited for different design and décor themes. Brass countertops, however, can show marks and stains easily if not properly cared for.
Pick a color
The color of the countertop that you choose has to blend in with the cabinetry, kitchen interiors, as well as the design and décor scheme in the remaining parts of the house. Colors that are popularly used in kitchens include:
• Textured White – the speckled or grainy white color is a great pick for kitchens of the traditional or transitional style. It makes the space look bigger and light without being clinical or austere. They also do not show every speck of dust or dirt that accumulates on their surface.
• Pure white – these countertops are just perfect for modern, urbane, and truly contemporary kitchens. They lend a minimalist appearance to spaces, but require proper care and constant cleaning for pristineness. They also pair well with wood and can be matched with blue furniture or cabinetry for a nautical feel.
• Brown – the wooden browns are an ideal choice for kitchens with a classic, breezy touch. They complement existing wooden cabinets, and also lend a rustic feel made from appropriate lumber. Reddish browns have a traditional feel, while grayish ones are just perfect for contemporary settings.
• Black – this color is great when you want to highlight other areas in the kitchen or want to build a black and white scheme. It connects easily with other elements in the space without creating an overbearing feeling.
Care for your countertop
The countertop sure is your workplace that needs to bear the brunt of cooking, washing, storage, preparation, and so on. But that doesn't mean that you ill-treat your worktop or neglect it. A kitchen that retains the beauty and charm over time is one that's been cared for properly. Regular cleaning and maintenance are necessary for proper upkeep of your kitchen countertop (www.ehow.com/about_4565705_kitchen-countertops.html). Different materials react differently to the liquids and substances that they come in contact with. Always wipe off the liquid spills as soon as possible. Use coasters when placing hot or cold objects on the worktop. This prevents unsightly marks from forming on the countertop surface. Use mild, non-abrasive cleaners, and soft sponges or microfiber cloth when wiping the surface. This would prevent the countertop from developing scratch marks. Reapply protective finishes at regular intervals so that the surface retains its beauty and pristineness even with use.