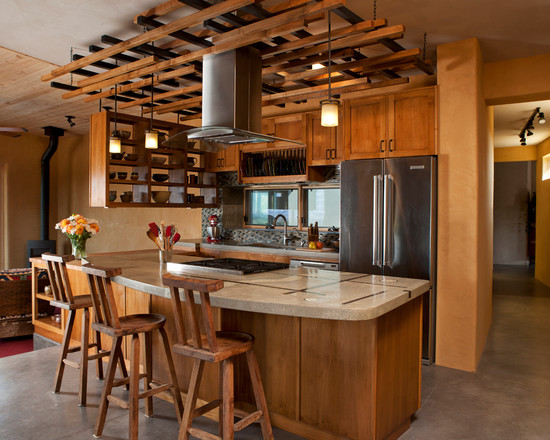 Estimated Time to Read: 3 minutes
Rustic furniture is the latest trend in the market. We all talk about the elegance and style statements that it defines, but do we actually know what it's all about. Going back to the golden age of woods and organic elements, rustic furniture defines a connection between traditional and contemporary art of furniture making. Made of woods and complemented by organic textures, it delivers just the perfect warmth that you get while staying close to nature. You get an inspirational feel of woods and nature within the well modernized houses right in the heart of the city.
Whether it's revamping your old house or decorating your new home, you have wild options available to create just the perfect rustic style. Talking about your new home, you are sure to get stuck with where to start, what to start and how to start. You have various contemporary furniture designs, innovative wallpapers and decorative displays adorn your house. However, for a while think about having rustic furniture for your new home. Don't you find this exciting, something that can would stay distinctive and elegant for years to come? Of course, this would add special charm, a unique elegance and natural warmth to your interiors.
Starting from your bedroom right to your bathroom, there are wild imaginations you can use. Let's start from your bedroom. You can have a cupboard, side table, bed, dressing table and sitting with antique finish, further complemented with a choice of natural colors like white, brown, burned red, earth tone or natural wood finish. Walls can also be adorned with rustic style wallpapers available in the market. Then there are varieties available for rustic style lightings and fans that add extra warmth, fun and excitement.
Then going towards your drawing room or living room, can you think how impactful and inspirational, this room can be. Rustic furniture like sofa, chairs and all the upholstery used in white, green or natural wood color can deliver a rustic and comforting feel. Further to this the wall accents, decor and other living room essentials in unfinished and layered wooden work can give a rustic appearance. You can even add a log sofa, dark hardwood floors, rustic TV console, beige walls, old tree mantel, ceiling adorned with wood beams or a stone fireplace in a corner of the room; all these sure to add an extra of inspiration to the rustic living room.
Then you have your dining room that can be adorned with well-designed wooden chairs and wooden plank table. The color can go from white to brown in varied tones to give you that feel of rustic style. Then the rugs and tablecloth can be light in color staying in contrast with the natural wood furniture. Further to this, beige walls, light décor pieces, ceilings with wooden beams and wall scones for added lighting deliver that distinctive look of rustic dining. You can even add rustic bar stools with a separate bar compartment for added distinctiveness and charm.
Further ahead is your kitchen that can be adorned with aged time worn wooden cabinets, a fireplace, wooden floors, wood ceilings, old window frames and wood burning stove. Wood used for walls and ceilings can be white or light brown because this adds an extra charm to the kitchen area. The cabinets can be pine wood that can be finished in light brown or even white to add the style you wish to have. Even dark brown or black can be used, but avoid if the kitchen area is small.
Last but not the least, comes the bathroom of your new home. Wall claddings, wooden ceilings, earthen tone ambience, handcrafted accessories, stone tubs, complementing sinks of porcelain or stone, granite countertops and rustic bathroom vanity together deliver a rustic appearance. Complement this combination of natural colors, organic textures, antique window frames are a striking addition to the rustic bathroom.
With all the rooms of your new home in a rustic style, your home is sure to define its own style statement. Give it a try and transform your new home to a beautifully inspired house.