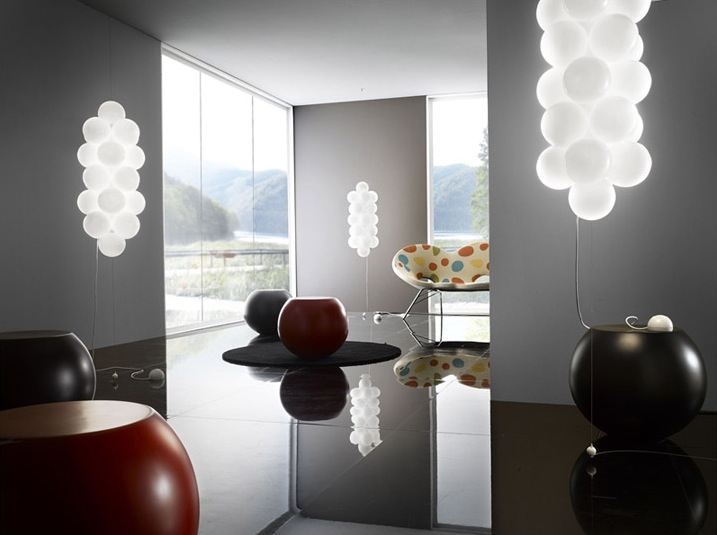 Estimated Time to Read: 3 minutes
Artificial lighting has come a long way from being just a device that brightens up a dark room to an accessory that creates the right aura in your dwelling space. It plays an important role in modern day homes, and places a lot of emphasis on aesthetics and functionality alike.
An important component of artificial lighting is contemporary lighting fixtures. They are pieces of art and design that balance the interplay of light and shadow. They come in a variety of shape, size, color, and pattern like chandeliers, wall sconces, pendants, floor and table lamps, and bath fixtures and so on. They can suspended from ceilings, mounted on walls, placed on floors, or embedded into panels, cabinets, etc. and can be placed in any room or portion of the house. When chosen carefully, they set the perfect ambience and make your home look more appealing.
Here are a few tips to consider when buying contemporary lighting accessories for your home.
•  Take note of the room or area of the house that needs illumination. Living rooms need lighting fixtures that do not cast too much shadow. Exterior areas like the entry, driveways, and walkways, require safety and security. Interior areas like kitchens and study rooms require lighting that helps with specific tasks.
•  Determine the purpose that the lighting needs to serve and select the type of lighting accordingly. Ambient or general lighting is used for uniform illumination. Task lighting aids reading, movement, etc. and is placed on tables and work stations. Accent lighting is used to draw visual interest. These fixtures are mounted on walls or hung from ceilings to accentuate a piece of décor and act as focal points.
•  Pay attention to the architecture of the house. Artificial lighting fixtures when combined with natural light sources, creates an elevated mood and also helps save energy.
•  Focus on the interior design and color scheme of the house. Pick a lighting fixture that blends with the furniture, drapery, and other décor elements – a Victorian style chandelier may not go too well with your sleek, Italian themed sofa set.
•  Assess the availability of space in the room or area that needs illumination. In a room where a large area is occupied by furniture, pendants and wall sconces work better than floor lamps. Also, ensure that the size of the lighting accessory goes well with the height and/or width of the wall, floor, ceiling etc.
•  Take into account the cleaning requirements. Many chandeliers and sconces often come with intricate detailing that makes them difficult to maintain. An unkempt piece of lighting mars the look and feel of the room and leaves a bad impression on your guests.
•  Bear in mind, the age of the occupants in your house. In case you have babies or kids, avoid low hanging and easily accessible lighting fixtures. This helps avoid risk of injuries.
•  Evaluate the power consumption and energy needs for the illumination devices. These days, a variety of lights are available, which produce less heat, consume very little energy, and are at the same time environment friendly.
•  Opt for additional features wherever necessary. Dimmers and night lamps are a boon in nurseries and kids' bedrooms to prevent children from being scared of the dark and to help parents navigate the room better. Remote controlled lighting works well in large rooms, especially those meant for relaxation and entertainment.
•  Research on different options available in the market. Brands like George Kovacs and Sonneman focus on classy, contemporary designs; Varaluz offers vintage and hand crafted products.
Buying contemporary lighting fixtures (www.ehow.com/info_8006264_light-fixtures-small-hallway.html) for your new or renovated residence isn't just about picking up the latest, most trendy or most popular design. It is also about paying attention to little details that make them a perfect fit in your abode.