Estimated Time to Read: 3 minutes
Rustic themed bedrooms are a growing fashion amongst many interior decorators and homeowners. These kind of bedrooms are especially suited for bedrooms of guesthouses and homestays as they create a peaceful country atmosphere around themselves and add a vintage look to the overall interior décor. People always have a fascination towards things that look old and worn out as they remind them of the good old times when life was simple, but a whole lot richer. Sleeping in rustic themed bedrooms, on rustic bed and spending some quality time around wood cladded walls is a different kind of experience that we don't often get to experience in our busy, urban lives.
A number of rustic furniture vendors design and make rustic beds, but only a few understand the emotions associated with this unique piece of furniture. To be precise, only few manufacturers can come up with rustic bedroom furniture that share the authentic, rustic feel and serve to be functional at the same time. Before buying a bulky rustic furniture like rustic bed, one needs to make a lot of considerations about space, size, style and functionality of these furniture and whether or not they can blend with the existing interior design. Here's a list of those considerations that you need to bear in your mind before contacting your rustic furniture vendor.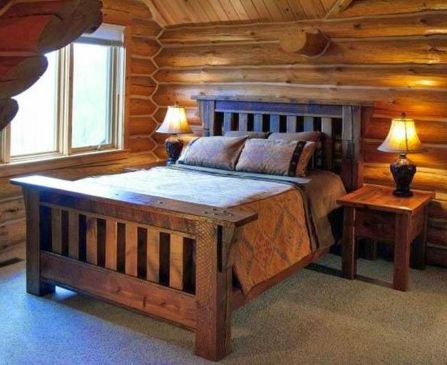 1. Space
Before deciding to buy any sort of bulky furniture like bed, space should be the first and foremost consideration one needs to make. If you don't have a clear cut idea about the space that is available in the bedroom to accommodate this big piece of furniture, it is very difficult to assume the size of the bed you would want to buy. In addition to the space occupied by the bed, one should also consider the space occupied by other bedroom furniture such as the nightstand, footstool, armchair, closet and reading table. To be on a safer side, have a vision of your supposed to be rustic themed bedroom and be very sure about that particular place where your bed is going to be placed.
2. Rustic Style
There are many sub-types within rustic style interior décor and it is wise to be well informed about these styles before buying a rustic bed. Three of the most popular rustic styles are:
a. Vintage: Vintage looking furniture that look old and worn out blend well with a rustic interior décor theme. Along with a vintage bed, antique sofas and chairs, vintage hooks and wall sconces, rustic lighting fixtures make up for a complete rustic themed bedroom.
b. English Cottage: White, dark brown and varying shades of blue are the trademarks of this particular rustic style. The English Cottage is perfect for those who love the cold and cozy atmosphere of England and wish to recreate that in their bedroom.
c. Nature: Nature is another popular rustic style that is perfect for summer cabins or hunting lodges. Few of the most common elements of this particular style are decorative stuffed animals, rich upholstery, earthly colors and leafless branches in empty flower vases.
3. Compartments
Beds with compartments are a wonderful concept for small rooms with limited space dedicated for storage units. If you want to avoid additional vanities for storing your clothes and other accessories, you can opt to have compartments below the bed. Make sure the doors don't occupy much of the space such that it leaves no room to easily walk around. Also keep an eye on the sharp edges of the cabinet doors as small kids and pets might bump into those sharp edges and hurt themselves. Rustic and antique metal handles to pull and push the cabinet doors perfectly go hand in hand with the rustic theme.
Apart from the above mentioned important aspects, also make sure to look for a protective coating on the wood to prevent it from water spillage and corrosion. Normally, hand rubbed wax is used to give this protective coating and prevent the spoilage of wood and increase its long life. Before buying the wood, also check for the quality of the wood and prefer solid wood furniture for spaces vulnerable to moisture and temperature changes.