Estimated Time to Read: 3 minutes
Bathrooms are one of the most visited spaces in a house and it definitely needs a storage unit to store all the accessories, cosmetics and various other bathroom products. But often these storage units are limited to being only functional and little or no attention is given to their style or ingenuity. However, interior decoration neglects no part of the house, including bathrooms. These storage units also popularly known as bathroom vanities are in fact the perfect prop to step up the interior décor of a bathroom and make it look stylish and welcoming. Unique and stylish bathroom vanities not only serve as functional storage units, but also stand as a reflection of the taste and hospitality of the homeowner.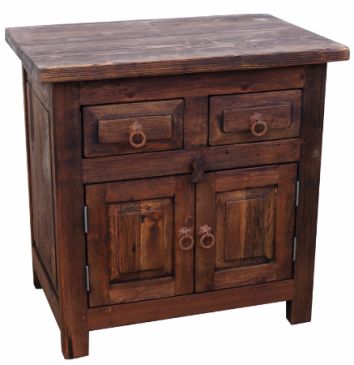 Rustic bathroom vanities are one of the most preferred type of bathroom vanities for storage and interior décor purposes. As the saying goes, old is indeed gold, as a lot of interior decorators and home owners prefer interior décor objects that look worn out and appear as if they come from a historic period. Rustic bathroom vanities are one of the most popular rustic décor items and one needs to make a lot of considerations before buying a rustic bathroom vanity from a rustic furniture vendor. As a beginner's guide, here's a list of things you need to know and considerations you need to make before buying a rustic bathroom vanity.
1. Bathroom Space
Understanding your bathroom space is the first and foremost thing you need to do before deciding on other aspects of buying a rustic bathroom vanity. As mentioned above, bathrooms are one of the most visited spaces in a house and also one of the smallest. A bathroom accommodates a lot of things like the bathtub, toilet, sink, shower etc. and has the rest of the space dedicated to easily move around. If you buy a bulky bathroom vanity and cover that little left over space, the whole bathroom experience is going to get very clumsier. Hence, before you decide on the style, size and compartments of a vanity, make sure there is enough space to accommodate it and a lot of space left to close the door and easily move around without any clumsiness.
2. Size
After space, have a clear cut idea of the size of the rustic bathroom vanity you would want to buy. Starting with its height, make sure the sink top can be conveniently reached by adults and kids. While style, uniqueness and vintage look is important, functionality of the bathroom vanity is also equally important. To reduce the bulkiness of the vanity, prefer the one that is uniquely designed and has less width. Remember, more the width of the bathroom vanity, more the size, and more the size, more the clumsiness. Also, make sure the top is lengthy enough to provide enough space for all the day to day activities like brushing, trimming and shaving.
3. Compartments
As said before, functionality is as important as style. While rustic bathroom vanities are naturally stylish and attractive, one should rather focus on its smart product design which makes room for many compartments and cabinets. Along with the compartments donning a rustic look with vintage metal handles, they should also have enough space to store all the basic bathroom necessities. Also, make sure that the doors of the cabinets open and close without any friction and don't occupy much of your bathroom space. In addition, a unique and stylish rustic bathroom vanity is the one that hides all the shabbiness of the plumbing and leaves no water pipe visible. Look for those vanities that have closed cabinets dedicated to hide the plumbing.
Apart from the above mentioned important considerations, also look for other aspects such as waterproof coating on the sink top to avoid corrosion of the wood. Normally a hand rubbed wax coating is given to make the vanity top waterproof; hence, remember to look for this coating without fail. Be clear about whether you need a single sink or double sink mounted on the vanity top and also the type of wood you would want the rustic bathroom vanity to be made of.