Estimated Time to Read: 3 minutes
Copper has been used since over 10,000 years for a vast number of reasons. Because of its soft, malleable and ductile properties, the metal has been used as a building material, sometimes individually and sometimes as alloys. It is also 100% recyclable and hence eco-friendly too. Though, commonly used for electrical wires and plumbing tools, it has also been recently used for manufacturing bathroom sinks because of its beautiful and attractive hue. By buying a copper sink for your bathroom, you can completely transform the look of the area and give it a complete makeover.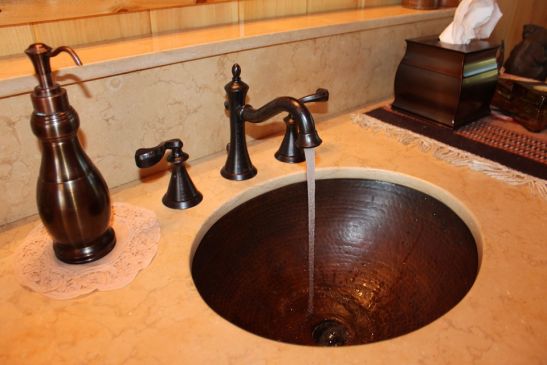 Copper sinks offer an array of benefits. In addition to its rich and vibrant color for aesthetics, copper sink also has a lot of practical advantages. As it is softer than other metals it molds and shapes easily, unlike other metals like stainless steel, which are conventionally used for sink manufacturing. However, here are certain things that you must consider before selecting a copper basin for your bathroom:
•  Antimicrobial Properties
Copper offers antimicrobial properties and causes a reduction in the growth of bacteria when it comes in contact with them.
•  Thickness of the Metal
As copper is a soft metal, therefore for a copper sink to be durable it is essential that it made of thick material. Metal thickness is calculated by its "gauge". Lower gauge will mean thicker metal. For instance, 14 gauge will be thicker than 20 gauge. In case of a copper sink, it is essential that it is made of 14 gauge for being durable and should be made of 16 gauge to be called manageable.
•  Handmade
Copper sinks are usually handmade. This is what gives them the natural and rustic look. However, if you want a more refined finish, it will be better if you go for custom options.
•  Color
Usually copper sinks come in two variants – bare and sealed. While bare look will darken with age unless you keep polishing it, sealed copper sinks lock the color through sealants and does not allow abrasive cleaners to affect the original color. This allows copper sinks to be available in a variety of colors from shiny penny like appearance to darker caramel hues.
•  Overflow Drain
Mostly copper basins come without an overflow drain, which can cause the bathroom sink to overflow easily. Ensure that the sink you select for your bathroom comes with this feature.
•  Safe
Natural copper often contains hazardous elements like lead or mercury, which can harm your health. Therefore, it is a must that you ask the salesman and ensure that your sinks are completely lead, arsenic and mercury free.
With so many factors to take care of, selecting a copper basin can be very confusing and fill your mind with many questions as to how easy it is to maintain these sinks. Following are some key maintenance tips:
1.  Mounting copper sinks in kitchen can be a little tricky. If it is made of pure copper and the color is not sealed, it will be very difficult to maintain its natural color. Lots of food we eat are acidic and can affect the patina of the copper basin. Pots and pans left in basin can leave marks but they will slowly vanish over time. However, this problem can be totally avoided if the copper basin is mounted in the bathroom.
2.  Annealed or pure copper can dent very easily but its cold rolled version can withstand the daily wear and tear and is very durable. Therefore, make sure that you only go for thick copper sink for your bathroom.
3.  Never wax the sink from inside or it may lose its antibacterial properties.
4.  Using bleach can also adversely affect the surface of the basin. It can darken the natural patina and cause a whitish taint in the lacquer, which is irreparable.
5.  Copper basins are easily scratched, but the good thing is that these scratches slowly darken and disappear over time.
6.  Make sure that your dry the sink after every use to keep its color intact for a longer period of time.
A copper basin can offer a beautiful touch to your bathroom and give it a complete makeover. So, just brace yourself with a little knowledge and buy a perfect bathroom copper sink for your house.