Estimated Time to Read: 3 minutes
Are you getting more sun than you can tolerate in any area? You may want to consider installing a mesh tarp. These types of tarps are generally used for outdoor applications and mostly for shade-providing and privacy-giving purposes. Along with having multiple uses, they are available in a range of colors, weave counts, fabric types, sizes, and prices.
Many mesh tarps are heavy-duty covers that won't tear easily and are resistant to UV rays, mildew, mold, and acid. For added protection, they come with double stitching around the parameter. They also have metal grommets at intervals. You can thread ropes through these to help secure the mesh tarp. With adequate care, these tarps can last you for a long while.
Using a mesh tarp for shade
There are various situations in which it may not be possible or preferable to erect permanent shade structures. Instead, you may choose to install long-lasting covers and sidewalls of mesh tarp. Here are a few reasons why you might decide to get mesh tarps for shade:
They are great at filtering out sunlight
You can buy mesh tarps in a range of neutral to bright color shades and in weave counts between eight to 12 per square inch. A darker colored tarp with a higher weave count will have a better ability to filter out light. Depending on your purpose, you can get mesh tarps that can provide 70 to 90 percent shade. Along with keeping the sun out, these tarps are also excellent as privacy screens.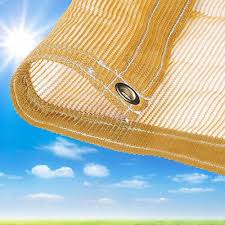 They are UV resistant
Before buying a mesh tarp, it is necessary to check if it is UV resistant. Such tarps are ideal for outdoor use as they are very resilient and will not deteriorate quickly with constant exposure to harsh sunlight. They will provide relaxing and protective shade, and will easily last for several years without displaying any significant damage.
They provide shelter from strong winds
While blocking sunlight to a decent extent, mesh tarps can also provide some measure of wind resistance. If you have strong winds in your area, you can curtail their effects to a certain extent by erecting mesh tarp sidewalls for balconies, terraces, tents, and other applications. The mesh tarp will slow down the air movement, not prevent it, and so the atmosphere will remain fresh and breathable within.
However, it is necessary to keep in mind that mesh tarps are not as useful as rain shelters. If you need protection against the rain, you will have to choose another type of tarp.
They are versatile and affordable
As mesh tarps are available in a range of prices, you will face no issues with finding the right tarp to fit your budget. Along with being affordable, these tarps come in a range of sizes and are versatile in application. Shade-giving mesh tarps are useful as covers for canopies, patios, terraces, playgrounds, swimming pools, ice skating rinks, plant nurseries, and other outdoor areas.
You can use them as screens and sidewalls on tennis courts, golf courses, camping sites, and other places. Additionally, mesh tarps can be useful as covers for truck beds and makeshift garages. They also wide use on construction sites to keep out debris, provide shade, and protect from UV rays.
They are aesthetic in appearance
Good aesthetics is also an important consideration when installing mesh tarps for shade. You don't want everything to be completely utilitarian after all, do you? By using colored mesh tarps, especially green and white ones, in various outdoor areas, you can make them look good and give them a semblance of neat orderliness. You can also create a more relaxed ambiance in gardens, playgrounds, terraces, and other outdoor settings.
As you see, there are plenty of good reasons to choose mesh tarps for shade. However, given the wide varieties available in the market, you may find it a tad bewildering to find the right one. It might help to take your time in researching the different types of mesh tarps and compare their different features as well as their prices. You can then simplify the selection process by considering your exact purpose for requiring the mesh tarp and how you intend to install it.