Estimated Time to Read: 3 minutes
Floor lamps are an important component of task lighting in homes. They are a versatile, beautiful, and stylish alternative to ceiling and wall lighting in many different parts of the house. They are much more than light sources, serving as focal point and statement pieces that transform the appearance of living spaces. When placed in tricky spaces like bedrooms, these light fixtures provide a good amount of lighting, and bring on a warm and relaxing feel, without being imposing. In living rooms, they stand tall and majestically beside side tables and sofa sets, illuminating the space through ambient lighting, or by providing task lighting in a reading corner. In outdoor spaces like patios and gardens, they provide illumination without costing you a bomb, and help transform them into warm and inviting spaces that entertains guests and hosts alike. Hubbardton Forge, an American manufacturer of lighting products, offers a scintillating collection of floor lamps for use in indoor and outdoor areas. They are apt for small and large spaces alike, and offer bold designs and powerful lighting that transform any space into a dreamy getaway. The floor lamps offered by this brand come in varied styles, out of which, the contemporary ones are highly popular. Here is a look at 5 brilliant Hubbardton Forge floor lamps to help you choose from this range.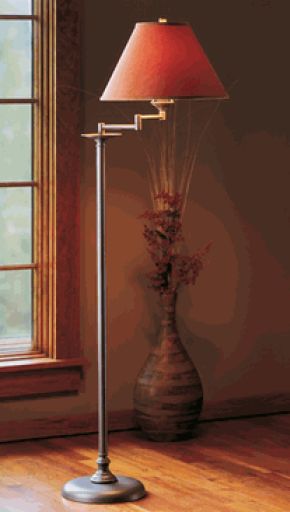 # 1 – Metamorphic
The Metamorphic floor lamp is a sleek contemporary design that reminds you of something new every time you look at it. The light fixture evokes the feeling of gazing at the clouds on a sunny day, while letting your imagination run free. It stands on slender metallic base and a gentle curved stand of Natural Iron, atop which sits a frustum shaped shade of Doeskin Suede. Housed inside is an incandescent lamp, which brings a warm and welcoming glow to any space.
# 2 – Folio
Folio borrows from artistic influences and juxtaposes it with contemporary styling to create a lighting fixture that is absolutely a feast to the eye. It features ribbons of hand-forged steel that intertwine and wrap around the floor lamp's stand, stopping just before the shade. Crafted in Dark Smoke finish and a Flax shade, Folio is admiration worthy in every sense.
# 3 – Mobius Arc
Floral blooms, when they inspire designers and artisans, result in breathtaking pieces like the Mobius Arc floor lamp. The product, with its petal like shade, reminds you of the fleeting beauty of the Calla Lily and brings home an endearing allure. It features a Dark Smoke finish on the body and a Spun Frost shade, with incandescent lamping. The Mobius Arc is a captivating addition to any interior space.
# 4 – Almost Infinity
As the name suggests, the design of this floor lamp (www.wisegeek.com/what-should-i-consider-when-buying-a-floor-lamp.htm) creates the impression of reaching out to infinity. The metallic stand features graceful, sweeping curves of hand forged steel that resemble the infinity symbol. Placed on top of this a drum shaped lampshade in Doeskin Suede, with an incandescent light source. Be it by the bedside in the bedroom, or the coffee table in the living room, the Almost Infinity floor lamp is one product that never fails to impress.
# 5 -Contemporary Formae
This floor is a contemporary take on the traditional taper. It features tubes of curved steel that slowly peel away from the stand as they move up from the base, and form gentle arcs that support the light bulbs. Wrapped around these twin bulbs is a Doeskin Suede shade, which brings on a light amber glow. The body, hand crafted in a Bronze finish, can be customized to a Mahogany, Burnished Steel, Black, Dark Smoke, or Natural Iron, to suit the color scheme of different interiors.
Contemporary styled floor lamps from Hubbardton Forge, with their wrought iron designs, display the craftsmanship of artisans in Vermont. These light fixtures are a beautiful addition to any urbane home designed around the contemporary theme.