Estimated Time to Read: 3 minutes
Decorating your home and garden is one of the most enjoyable aspects of being a homeowner. Your home is your space, which reflects your true style and personality. Styling your home and outdoor space gives you the opportunity to exhibit something that is truly magnificent. There are different ways to shape your garden. Choosing decorative yard lights for your garden is an excellent idea to create a memorable décor.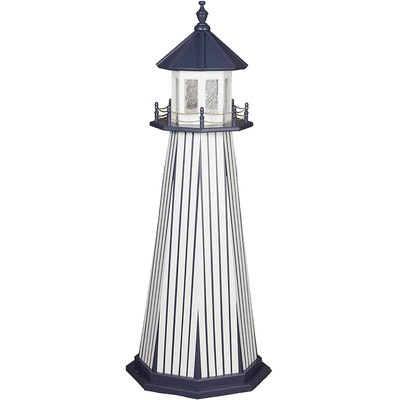 Yard Lighthouses for Sale
Yard lighthouse is one of the compelling options available for outdoor lighting. It has the power to transform your garden, patio, and backyard into a mesmerizing space. You can choose these lighthouses according to the size and type of garden. Your lighting option can be simple or complex depending on the visual effect you want to achieve for your landscape.
Apart from being functional, these lighthouses are ascetically beautiful and designed to perfection. You can find a myriad of styles and designs to complement any type of garden or landscape. Each one of these miniature lighthouses has meticulous designs that resemble the original version. You can install these lighthouses in any nook and corner of your garden to achieve that unique appearance. However, you need to ensure that you install these lights in a place that provides ample lighting to the walkways and other spaces in your garden.
Yard lighthouses can magnify the beauty of your garden and patio. You have the choice of using low and high voltage lights for your yard. Low voltage lights are perfect to accentuate the beauty of your plants and garden accessories.
You can use different types of yard lights to emphasize any specific piece of a lawn ornament. It is easy to find numerous lighting options to add to the décor of your garden and patio. Very few home improvements revamp your garden and outdoor space like lighthouses. It adds a higher level of elegance and beauty to your yard with its majestic appearance.
How do Yard Lighthouses Transform your Landscape?
Yard lighthouses are specific types of garden lights that can decorate your yard in amazing ways. It has the ability to enhance the overall appearance of your garden by glowing beautifully. Wooden lighthouses are great additions to your garden with its exceptional designs and colors. You can also find customized lighthouses to complement the décor of your garden.
Lighthouses bring your entire outdoor space to life by illuminating it in several enchanting colors. With its sturdy and strong construction, this unique lighting option is available in different alluring styles and designs that replicate its original. Quite realistic in appearance, decorative yard lights also include excellent storage facility. It can also weather climatic conditions as it is made of high-quality steel.
This majestic decorative lighting option can transform your garden into a paradise. You can also find various accessories that complement yard lighthouses. Stationary, rotating and flashing lights are some of the lighting options that you can find in these diminutive lighthouses. You can also choose between battery powered and solar-powered lights to illuminate your garden.
How to Choose the Perfect Yard Lighthouses
With so many different varieties of yard lighthouses for sale these days, choosing the perfect one is not a difficult task. You will surely find one that complements the décor of your garden and enhances your overall landscape.
Choose a perfect space to install your yard lighthouse. It must be the focal point of your garden as it has the power to revamp your entire outdoor space. It creates a stunning effect and fascinates people. You can also choose to install it amidst the greenery and colorful flowers to achieve that magical appearance.
Yard lighthouses are available in a range of sizes. Therefore, it is good to choose an appropriate size depending on the availability of space in your garden. Most of these decorative lighthouses are customizable according to your specific requirements.
Decorative yard lighthouses can transform your ordinary home and garden into a special place. You can incorporate these decorative yard lights along with other elements to enhance the ambiance of your garden.