Estimated Time to Read: 3 minutes
Rustic Lighting has seen a strong resurgence in recent times. While the trend of rustic furniture originated when the early settlers started making furniture from left over packing crates, over time it has become a mainstay of the most upscale vacation homes. Rustic lighting incorporates the simplicity of the rural life in its design themes. The fixtures are made of wood and metal, with straight lines and minimal curves. While the focus is on all things America, design influences are taken from different locations and periods of history, like medieval England and East Asia.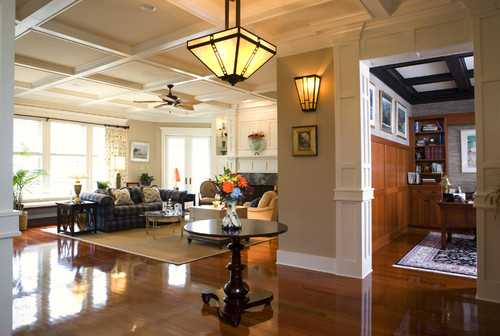 Arroyo Craftsman is a specialist in rustic lighting. Based in Baldwin Park, California, the firm is noted for its emphasis on hand craftsmanship and wizardry in brass. Arroyo Craftsman products have been used in historical landmarks for their authentic appearance. The firm also has deep relationships with the heavyweights of design like Frank Lloyd Wright, whose homes make use of the firm's lighting fixtures. Arroyo Craftsman's unique selling point are the hand-applied unique metal finishes like Verdigris Patina, Raw Copper, Mission Brown, Slate and Pewter which completely transform the appearance of the firm's products. Coupled with multiple glass options, customers have a whole host of options to customize their desired rustic look. The firm's extensive range is divided into different series, which all incorporate common retro-modern design elements. The outdoor fixtures are grouped into different series or ranges based on the design elements incorporated in them. Each series will offer a complete range of fixtures having different applications, so homeowners can just pick out complementary models from the range. Here we explain the features of some selected series from Arroyo Craftsman's portfolio.
Asheville Series
Asheville series is inspired by North Carolina's pottery. The design is bold and minimalist, inspired by the work of Frank Lloyd Wright. The glass is frosted to recall the appearance of semi precious minerals. Hanging pendant lights and ceiling mounted lights are offered in this model range.
Berkeley Series
The Berkeley series offers buyers a selection of pendant lights, ceiling mounts, post mounted lights, column lights and path lights. The series is primarily meant for outdoor installation. The design features a signature conical peaked roof, with a choice of finishes and patina.
Carmel Series
The Carmel Series features a gently sloping wide brimmed roof and a choice of overlays on the shade. Chandeliers, pendant lights, wall sconces, outdoor post mount are column mounts are available in this series.
Hartford Series
This series combines Californian elegance with New England's simplicity to produce a very evocative design. The straight lines and high roof offer a stately counterpoint to the decor. The series comprises outdoor fixtures with hanging lights, post mounts and wall mounts on offer.
Lily Series
The lily series features delicate floral-themed metal overlays on the shade. The fixtures are slim and finely detailed. With an overhanging flat roof, frosted shade and a hexagonal body, the fixtures in this series add elegance to the surroundings with great ease. Pendants, post mounts and wall sconces in large and small sizes are offered in this series.
Pagoda Series
The Pagoda series has distinct Asian influences in its design. Here Japanese architectural touches like the rooftop and pleasing red and green shades are incorporated into a strong Oriental range. This outdoor series includes pendant lights, wall sconces, post mounts and column mounts.
Prairie Series
The pioneer spirit of never say die, grit and daring is represented in the bold Midwest-inspired Prairies series by Arroyo Craftsman. There is a minimalistic overlay and clean lines are used to bring back the simplicity of the settler era. This series is meant for indoor use. Pendant lights (www.wisegeek.com/what-are-the-advantages-of-pendant-lighting.htm), table lamps and wall sconces are included in this collection.
Saint Clair Series
The Saint Clair series has a delicate rose overlay that is very pleasing to the eye. The curved metal work gels very well with the tall column shaped fixtures in this series. Long lines with curved edges leave a very pleasing effect on the beholder. This series incorporates booth indoor and outdoor fixtures, with chandeliers, pendants, light bars, column mounts and post mounts.