Estimated Time to Read: 3 minutes
And when it comes to decorating washroom, what can be better than solid wood bathroom vanity. Solid Wood- these two words describes all: strong, durable, tough, long lasting, moisture resistant and maintenance free.
The solid wood bathroom vanity is the bathroom vanity made of the natural wood. It is used in lavish bathrooms, powder rooms, and washrooms. Now you might be thinking of what is so special about solid wood bathroom vanities and why should I choose one? Let's find out why solid wood bathroom vanities are so special.
Solid Wood Bathroom Vanity
Solid wood is lumber that is trimmed from the tree. Solid wood is the term which is used to distinguish the natural wood from the manufactured wood. Natural wood is a robust material which is used to build the furniture that lasts long. Apart from this, what makes solid wood vanity so special is its unique natural rustic appearance which cannot be attained on the engineered wood even by finest of the woodworkers because rustic appearance is the inherent property of wood that develops over the time.
No doubt every piece of solid wood is unique. No two pieces of natural wood are similar. And when you go out in the market to purchase a natural wood bathroom vanity, you have two choices-New solid wood bathroom vanity and Reclaimed wood bathroom vanity.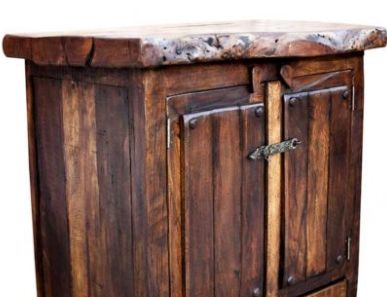 The new wood bathroom vanity is made of fresh lumber whereas reclaimed bathroom vanity is made of wood reclaimed from old barns, warehouses, and factories. If you are someone who loves to pour the elegance of the traditional world into the room, then reclaimed wood is the best pick for you. It will adore your bathroom like nothing on earth. However, if you love sharp finishing and more consistent surface texture, new wood will work best for you.
Advantages of Using Solid Wood Bathroom Vanity
Long Lasting
Solid wood furniture is built to last several lifetimes. It is strong, tough and can easily withstand the test of the time. If you want to hand over the legacy of your time to coming generations, solid wood is the best choice for that. Even if you don't, still you need not worry. Solid wood is such a robust material that holds its value even after years. If you plan to resale it in future, you will get a good price for it.
Aesthetic Appearance
The reclaimed wood bathroom vanity is famous all over the globe for its rustic appearance, natural imperfections, and tone variations. It gives lavish appeal to the bathroom. Each piece of natural wood vanity is unique and has rich characteristics. Rustic looks of bathroom vanity enhance the aesthetic appearance of the bathroom.
Durable
When it comes to using wooden furniture in moist areas, nothing can substitute the natural wood. A solid wood bathroom vanity is extremely durable, tough and highly water resistant. Its tight-grain pattern makes it resistant against moisture. It performs far better than the engineered wood in moist areas such as bathroom, powder room, and washroom.
Maintenance free
For few, only this reason is sufficient enough to opt for a reclaimed wood bathroom vanity. It is almost maintenance free. Occasional oiling, waxing, and polishing are all it needs. In long run, it saves a lot of money.
Eco-friendly
If you do not want to increase your carbon footprints, the reclaimed wood bathroom vanity is the best you can choose because it is manufactured from the existing stock of wood. No new trees are harmed. However, if you love the finishing of new wood bathroom vanity a bit more, still, natural wood is a far better option than engineered wood because it does not use adhesive and release dangerous VOCs in the environment. And you can also make up for the lost tree by planting new ones.
The Bottom Line
The solid wood bathroom vanity is a one-time investment. It is built to last for a lifetime. If you have dreamed of the lavish bathroom, a solid wood bathroom vanity can make it into reality without breaking your budget.