Estimated Time to Read: 3 minutes
Outside of your job your house is the only place where you spend most of your time. But it is likely that you do not know your house well from top to bottom, particularly the top portion. To be precise, do you have any idea what is lurking up there in the attic? The truth is cleaning your attic is not on your priority lists. But cleaning the attic is beneficial than you might think and the good news you do not have to clean yourself. An attic cleaning service can do the task efficiently for you. Below we have put down a few benefits of hiring professionals for attic clean up.
Tackling a Rodent Infestation
After winter months have passed, you will find that a rodent family has entered in your home's attic or you may find the rodent's droppings or remains. Rodent feces contain bacteria that cause health issues and respiratory problems for your family. Few diseases or viruses linked to rat droppings are discussed below.
Bubonic Plague caused due to rodent bite
Rate Bite Fever caused by consuming food contaminated by infected rodents
Now you can understand why attic cleaning is important as it helps in removing urine traces, dead rodents and rodent droppings from the attic. It helps in safeguarding your house from infectious diseases. Moreover, rodents destroy the attic by a mess of insulation, paper, and wood that has been shredded. By hiring a professional it is guaranteed that the air you are breathing at home will be healthier.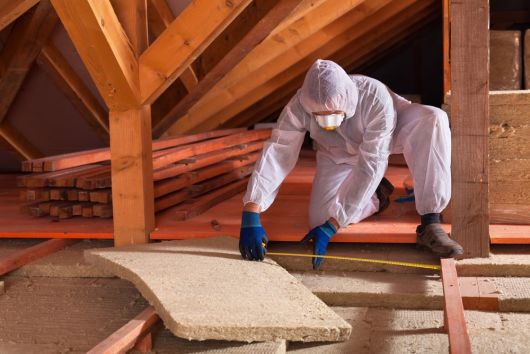 Getting Rid of Holes and Cracks
With time, wood and general wear exposure create holes and cracks in the attic's walls and corners. These tiny holes allow air from outside in entering your attic and increase utility bills. During summer, you want your home to be comfy and cool, but if there are holes and cracks in the attic, outside hot air will enter the home and the cool indoor air will escape. During attic clean, up, professional can able to detect air leakage and use the best method to seal these areas.
Eliminating Dust and Dirt
As your attic's content remain untouched for a long period of time, a huge amount of dust and dirt forms on them. This means both your home's air and contents become dirty. A comprehensive cleaning will enhance the air quality as well as keep the items clean.
Replacing Contaminated Insulation
A professional will be replacing any insulation in the attic that has become contaminated. As a result, you will be ending up with new and premium quality insulation that will help in preventing pests, moisture, and heat from entering the attic. An expert will tell you how much insulation you require, which area you require and the most appropriate type for your attic space.
Getting Rid of Mold
Water and moisture can enter the attic through holes and cracks. The moisture will then accumulates, condense and serve as the best place for mold and wood rot to occur. Attic clean-up will help to prevent from destroying the air quality and the structural integrity of your home.
Creating Additional Living Space
A professional will not only get rid of contaminated insulation, dirt, rodent feces or mold but also help you to eliminate physical items that you do not need anymore. Thus, you will be having extra space in your attic that can be used for valuable purposes. For example, you can turn your attic into an extra room by taking help from a home renovator.
Making Extra Money
There are various stored items in your attic that can be donated but at the same time, you can sell some items at a yard sale too. This means you can earn extra cash in addition to cleaning up your attic by hiring a professional.
Saving Time and Energy
When you are hiring an attic clean up service for doing the dirty job of clearing your attic, you have the chance for relaxation rather doing some heavy lifting. The fact is cleaning the attic by you may take days or weeks. But, a professional will only take a few days to clean.